Hyperthermia is a therapeutic oncological treatment, which involves administering heat to a tumour tissue as selectively as possible, in order to increase its temperature to a value ranging between 42.5 and 43 °C.

There are various ways of generating hyperthermia within the body, depending on the form of energy used. In particular, it is possible to distinguish between:
Ultrasounds, mechanical waves with frequencies between 0.3 and 3 Mhz.
Microwaves, electromagnetic radiation with frequencies between 300 and 2450 Mhz.
Radiofrequency, electromagnetic radiation with frequencies below 300 Mhz.
Ultrasound makes it possible to focus energy on small volumes even at considerable depths, but it suffers heavily from the reflection phenomenon. From a clinical point of view, the use of non-ionising electromagnetic radiation is more functional.
Penetration is only a few centimetres in the case of microwaves, while depths exceeding ten centimetres are reached with radiofrequency techniques. The depth of penetration, in fact, increases as the frequency decreases. This is why radiofrequency is predominantly used in deep treatments.
The energy produced by microwaves or radiofrequency waves heats the tumour to a temperature of about 42.5 °C.
Heat affects cancer cells more than healthy cells. Most cancer cells have an altered vascular system that cannot dissipate excess heat; normal cells, on the other hand, are well supplied with a regular network of vessels and can easily dissipate the extra heat received.
Hyperthermia kills cancer cells during a cycle phase (phase S) where other cancer therapies are usually ineffective and is therefore considered a complementary treatment to radiotherapy and chemotherapy.
The advantage of hyperthermia is that it can enhance the effects of radiotherapy and chemotherapy and reduce their side effects.
Clinical studies have shown that adding hyperthermia to these therapies increases their effectiveness, without causing more damage to normal tissue. Radiotherapy works when it targets well-oxygenated cancer cells, while it is less effective in the case of poorly oxygenated cells. On the contrary, more cancer cells will be killed by adding radiotherapy to hyperthermia. In addition, hyperthermia prevents the irradiated cancer cells from recovering from the radiation damage and repairing it.
If the patient receives both hyperthermia and radiotherapy at the same time, the cancer cells, which are normally able to partially repair the damage caused by irradiation, are no longer able to recover and die earlier (apoptosis).
Several clinical trials have also shown that low doses of ionising radiation combined with hyperthermia can be as effective against cancer as high doses alone. The combination of heat with radiation can thus provide effective treatments by reducing the side effects of high doses and improving patients' quality of life.
Moreover, by combining hyperthermia with low doses of radiotherapy, it is possible to re-irradiate recurrences in tissue already highly damaged by ionising radiation developed after radiotherapy and that would not be further treatable.
Some cancers are successfully treated with the triple combination of hyperthermia, chemotherapy and radiotherapy, without an increase in overall toxicity.
Numerous clinical trials have shown an increased complete response with the clinical disappearance of cancer when hyperthermia is added to radiotherapy or chemotherapy. On average, the increase in response is around 35% and affects breast cancers, cervical cancers, soft tissue sarcomas, bladder cancers, glioblastoma and head and neck cancers.
Hyperthermia, being a powerful radiosensitizer and chemosensitizer, increases the efficacy of conventional treatments without adding toxicity. Moreover, it acts as an immune system modulator and is able to stimulate the natural defence system of the patient undergoing treatment, which is often weakened by cancer drugs and ionising radiation used in radiotherapy.
Most of these trials were conducted by randomly drawing patients. Some of them joined the experimental group, where hyperthermia was added to standard treatment, while others joined the control group where only conventional therapy – usually radiotherapy and/or chemotherapy – was administered. These clinical trials are referred to as randomised trials and their results cannot be manipulated by researchers as the patients were selected randomly.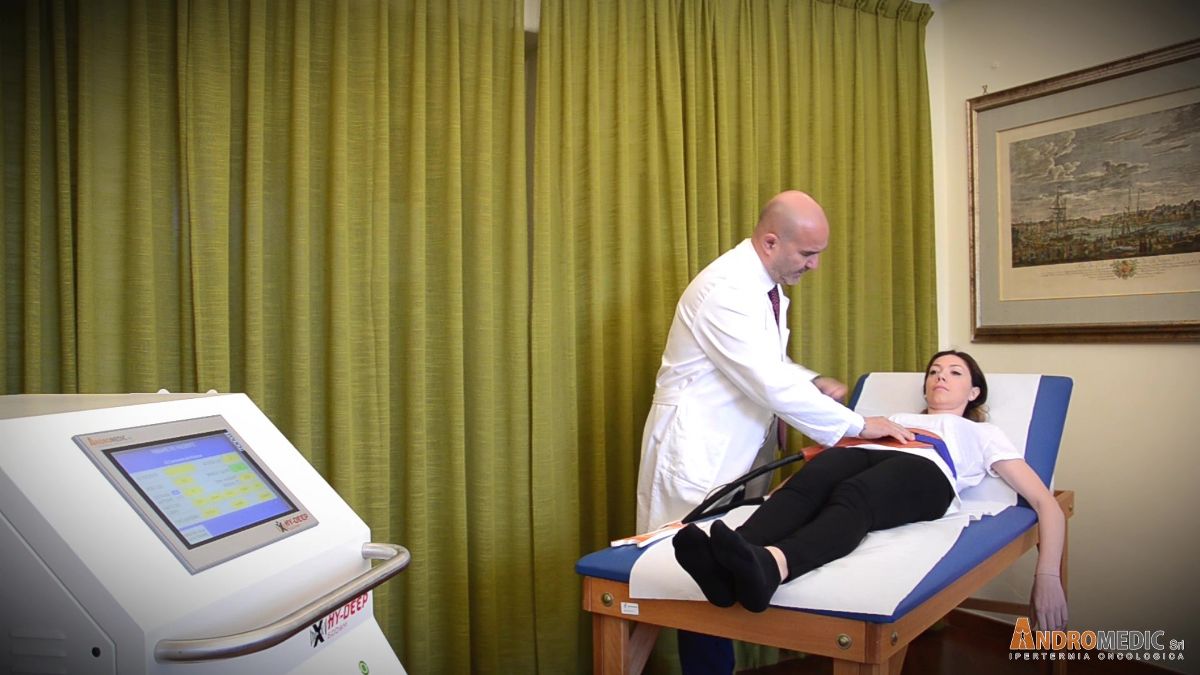 The addition of hyperthermia increases patients' tolerance to treatment and simultaneously improves tumour response and often survival of these patients.
The side effects of hyperthermia are negligible compared to those caused by conventional cancer therapies and do not add up to them.
According to currently available data, the risks of complications are usually low and include transient superficial burns, pain in localised spots and moderate skin, muscle and nerve damage in the treated area. Rarely, more serious complications may occur such as deep burns or fistulas that take time to heal.
Modern technology has produced devices that are able to minimise undesirable effects, which, in any case, are not long-lasting and of little severity.
Cases in which hyperthermia should be administered
Based on the Osaka Consensus Conference (2004), hyperthermia should be administered in the following cases:
Other cancers treatable with hyperthermia with good results include peritoneal carcinomatosis, advanced prostate cancer, recurrent glioblastoma, oesophageal cancers.
See full clinical documentation
Andromedic's Work
Lavori Scientifici Ipertermia
Linee Guida